2020 Mixtape: Strings, Lockdown, Strong Women, and Whales
Probably about [squints a bit, rubs chin] four years ago a friend of my [then-]wife invited us to a nineteen-eighties-themed birthday party. For the previous few years I'd been assembling playlists of music videos, mostly from YouTube, to play during the traditionally festive bit at the end of one year and the beginning of the next. Together with getting out the turntable and dusting off the vinyl, jigsaw puzzles, Trivial Pursuit, Uno, and insane amounts of food and booze, a splendid time was generally had, under the circumstances.
So as we were too skint to shell out for an appropriately lavish gift for a round-numbered birthday, my wife suggested I put together an eighties-themed video playlist on a USB drive. It was tremendous fun finding and downloading the videos (for any young people who may be reading, "downloading" is just like streaming, only deleting the data you've just downloaded isn't mandatory). Where previously I'd just played the videos through my RaspberryPi plugged into the telly, this time after downloading with youtube-dl, I edited (most topping and tailing) the clips when necessary in OpenShot, checked the audio in Audacity to see how much it should be amplified to keep each track at more or less the same level (no, I've not found any satisfactory way of automating this), then applying the amplification and transcoding to H264 MPEG with HandBrake, so that you could stick a USB stick into any telly made in the last ten years and it would play.
It was so much fun that I extended my remit beyound the eighties and started doing the same thing every year. I'm less fussy about the format/codec now, as I don't have a telly (these days nobody does; they're just computers you don't really control, with a huge monitor and a very bad UI), so I just leave it in the format/codec I found it wherever possible.
This year — no relatives, not much food, still plenty of booze — I set about doing the same. Having exhausted the obvious back-catalogue stuff it's a smaller show than in the past, and I'm a month behind schedule. It's mostly little novelties that I've stumbled across in the last twelve months, plus nostalgic things that they brought to mind. You can download the whole thing here, for as long as I have the server space, or follow the YouTube links below until the sources are taken down.
Here's the list:
Can't start without the Pogues. Found a few old clips while down some rabbit hole or other last year. Would love to know the source of this one, beyond "somebody's VHS collection". Really encapsulates MacGowan's punk attitude to music at a point in the Pogues trajectory where the success they'd had didn't interfere with his preferred lifestyle; no barriers between performer and audience, and a sheepish indifference to his own talent.
In the late eighties and early nineties, my old school chum Paul used to drive up from his family's semi-rural property to my family's utterly-suburban home once a week. We'd order pizza and consume vast quantities of cola to the point where I swear I could feel the sugar slurry moving through my veins. Until the not-so-wee hours of the morning we'd talk nonsense and watch Rage, where this video was one of several on high rotatation at the time. A gorgeous song and a video that perfectly suits it, but doesn't define it.
Stumbled across the official video for this single on a forum somewhere and immediately thought "This is great! Simple, relentless, like the Fall!" As it happens, this song is a bit of an outlier, and most of her stuff is more in the standard Oz Alternative vein. Still, I like that as well, so no harm done. This live rendition is a bit nearer Nirvana than the Fall. Which — also — is nice.
I'm fascinated by the way she plays guitar, since the way I play (well, used to play) is to treat the whole enterprise as mainly an aerobic workout, and if all the frantic thrashing about sounds okay, that's a bonus. Seeing her get that big sound out of lightly brushing the strings, and realising "Oh, yeah. Electric amplification…"
Some transitions between songs are because one naturally follows from another. Others are because it's a jarringly discordant wake-up. Still others are just your brain telling you "I want to listen to this one next".
This song was on the EMI (Australia) various artists compilation album 1982 with a Bullet, which we had in our house as kids. In the nineties, when I was living in Oscar's Palace, I was messing about on my guitar with chord progressions and suddenly thought "Oh! That sounds like…", and did the same few chords in waltz time. And yes, my entire life is basically nostalgia for times that don't really warrant it.
Putting together the original 80s playlist, I couldn't find a source for the official video, so I used a far less satisfying Top of the Pops mime performance. This will be not the last callback to earlier playlists (which I may also put online if I'm ever less work-shy).
Spirit-raising remote lockdown renditions of beloved songs: didn't you love these in 2020?
Maybe not entirely, but still it's Crowded House. Well, it's Neil and Nick. Plus fun fact: the "catch a deluge in a paper cup" line was a conscious nod to Lennon's "Words are flowing out like endless rain into a paper cup" from Across the Universe. Bet you didn't know that. Read it in the early nineties in an interview with Neil in one of those music papers that used to give you black fingertips.
Spirit-raising remote lockdown renditions of things you've never heard before…
I think The Jerk is one of the greatest films of all time, and I'm delighted by Steve Martin's quite substantive musical career in recent years.
I bought a banjo about twenty years ago, hoping to emulate Jem Finer from the Pogues. Turns out it's a very loud instrument, with no volume control. Not quite as bad as bagpipes or the saxophone, but not recommended for anybody who likes to reach a certain level of proficiency in complete privacy.
Still have it. Barely played. Make an offer.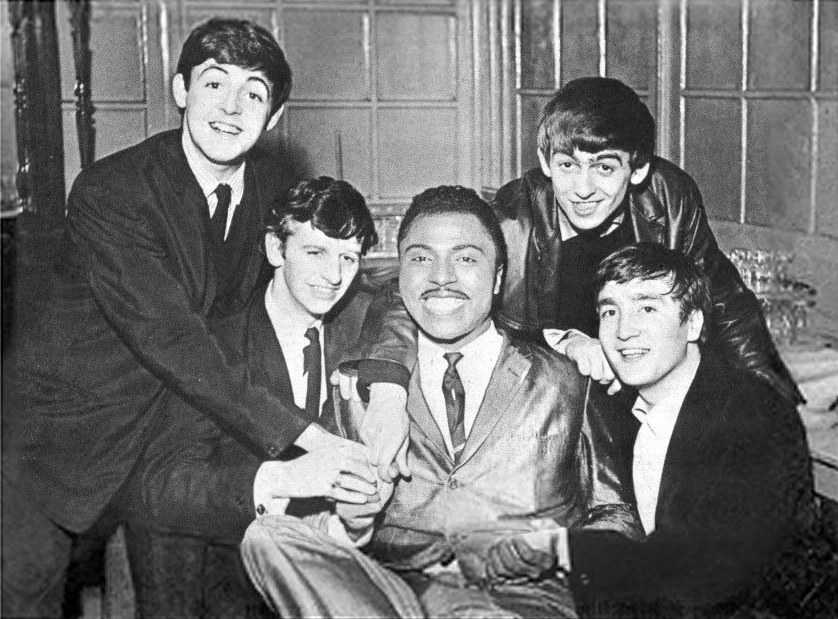 Good golly, Miss Molly. RIP, the king and queen of rock and roll.
Ringo had just recovered from a serious bout of tonsilitis. Thought you might want to know that.
Using FFmpeg, you can fix the aspect ratio without re-encoding and losing quality. Which is nice.
David Byrne (Live on Saturday Night Live): Once in a Lifetime
This has already been yanked from YouTube. It's a performance from the American Utopia stage show which Spike Lee filmed and you can probably get from various informal distribution channels. How on earth taking this off YouTube might be to the benefit of Byrne, the producers of SNL, the stage production, or anybody even remotely associated with all the above, is a mystery to me. Monopolists got to monop, I suppose.
The Mondays' last proper album is an unappreciated gem. The conventional wisdom about it is total bollocks.
They didn't bankrupt Factory, Factory bankrupted itself and was waiting, unreasonably, for the Mondays to come to the rescue.
The Mondays were always a producer's band, and after a cracking couple of albums with first John Cale and then Martin Hannett producing, they had their mainstream hit with Paul Oakenfold, which to me landed like a wet sock. It was so of its time that it was dated by the day of its release, and so polished that you can listen to it over and over and not feel a thing.
Yes Please! was a return to form, with Chris Franz and Tina Weymouth (from Talking Heads) putting the welly back into the mix.
Unfortunately the NME and Melody Maker, having decided how music was going to go in the nineties and finding that the Mondays no longer fit, elected to put the boot in. Because obviously Northside was the horse to bet on.
Did Chrissy Amphlett make sexy scary, or make scary sexy? Anyway, an Australian band that broke into the mainstream without losing brains or edge.
My friend Paul and I saw the Divinyls at the State Theatre in Sydney about thirty years ago. Brilliant.
I love the State theatre, but it was the wrong venue for that band. The seats were totally redundant from five minutes in.
Fediverse chum @andyc brought this clip to my attention last year. It's a beautiful thing.
This song is occasionally on the musak playlist at work. I don't care. It won't spoil it. I could listen to it every day, and it would never fail to fascinate me.
There are no words.
Another lockdown video which is also a callback to my eighties mixtape. The song hit that sweet spot of one you'd remember but not too familiar, so that you'd get that Proustian remembrance effect.
Also, the original version makes one think "Christ! What a bunch of wankers!" I can't say that the update entirely rids one of that sensation, but as a general rule, getting old is a blessing.
Now, to be honest, I don't know why I included this. I was probably drunk. It's off the first Dubliners album I ever bought, which was kind of a reunion album (with an accompanying TV special I've still not seen), made in the banner year of 1988.
1988 was my last year in school. Beginning with pocket money record purchases, and accelerating when I got my first job the following year I mined that year for everything it had. And what riches it had! The children of punk came of age in that year. The Pogues and Billy Bragg released albums of staggering brilliance and beauty, and the Banshees gave us Peepshow.
I'm a sucker for a cello. Love this video for the eighties music show presenter awkwardness and the VHS artifacts.
Also, as far as I'm concerned, Siouxie still looks and dresses like this. I will not accept any evidence to the contrary.
Okay. The cello thing can be taken too far.
I was really thrilled when George Harrison had his late eighties renaissance, and the Wilbury thing, with ELO's Jeff Lynne. So as a gormless schoolkid, I started shoplifting ELO records and cassettes (shoplifting pro tip: the cassettes are easier). I tried to like them, but my god, they were awful.
For decades afterward, I tried telling myself that actually, the first — budget-constrained — album was pretty good, what with the overdubbed raw scraping of bows on strings. A few Christmases ago I put that record on the turntable, and no, it's just bloody awful.
So this video is just self-flagellation, and a reminder of what punk fixed, however temporarily. Enjoy.
More lockdown. The only song I included in the mix was the first, as it later becomes apparent that Suggs is just phoning it in. Jesus. You had one job to do! Be a nutty boy. That's not an unreasonable request for a sixty year old man, surely? Look at Siouxie: she's still stunning!
Oh, Morrissey. Look at yourself. You poisoned it all.
Another one I got from some bonkers forum site. I knew guitarist Carrie Brownstein from Portlandia, one of those Lorne Michaels catchphrase-driven sketch comedy shows that are never quite as funny as you want them to be. I'd heard that she was in some band called Sleater-Kinney, but I never felt sufficiently motivated to investigate.
This song is good, inoffensive guitar pop. What's not to love?
I'm working my way through the back catalogue, The first couple of albums are a bit raw, but the ones after that are in the grey area between offensive and inoffensive, otherwise known as my comfort zone.
I never heard of Son House, can't remember how I got to this video, by my god this is the real stuff.
Back in about 2002 my wife and I were in Annandale on a very important mission to get a pot of some specific colour of paint, and after securing said item and dinner at McDonalds, we wandered across Parramatta Road to the Empire Hotel for a beer. This was the inner west's premier blues venue, and as we sat down, a young blond-haired, blue-eyed boy started setting up on stage and I, in a terribly racist way, thought "Hello, get ready for some Eric Clapton."
Turned out he was actually quite good, and we stayed to the end of his set. By then we were a bit tipsy, and game for the next act on the bill: Hat Fitz and Itchy.
Good golly, Miss Molly. Never knew that it was possible to make that much sound out of a single guitar. Literally pinned back to the wall by the force of it. Never mind the malevolent glare Fitzy gave the audience as he sent them into paroxysms of pleasure. He was playing the audience as much as playing the guitar.
He announced that he accepted tips in the form of Jameson, and by the time they were done, the front of the stage was covered in little glasses. He's settled down now, and his current musical/life partner told me on a recent visit to Coffs that he doesn't drink at all any more. Which is nice.
I'm a couple of albums behind at the moment, but he's the kind of artist where it doesn't feel right to buy a CD anywhere but out of his suitcase at a live gig.
Yes, I know. All I want from life now is a cure for baldness and a string section that will follow me about on a cart.
Not the most prolific band on earth, but thirty years on still the most adept at tugging on heartstrings. I've a personal vignette I can't help but associate with this song, but it's a matter for another occasion.
Okay, the whole concert video is mesmerising. I just included the whale one because it's such an oddity of a song, and so weird that Shane included it on the Pogues' first album. He has a logic that defies logic.
Shane here is just magic. He's a very capable guitar player, and possibly rivals Lydon as the best punk vocalist. That original simple lineup, the selection of traditional songs, and of course the glorious original compositions are pure genius. He engineered it all, but a few years later it crushed him.
Obscurity is underrated.
Not long after we moved to Sawtell, my brother-in-law and his girlfriend came down from Queensland and lived with us for a while before heading off again to Goondiwindi (sounds exotic, but don't go there unless you have a thing for red dirt). They'd seen That 1 Guy in Queensland, and insisted we all had to go see him at the Planto in Coffs.
(There's a doctoral dissertation to be had on the syntactical rules around Australian colloquial abbreviations. The Plantation Hotel is the Planto, while the Toormina Hotel is the Toormi and the Sawtell Hotel is the Sawty. The Park Beach Hotel/Motel is the Hoey Moey. Nobody feels the need to ask why.)
I was so impressed that when I bought a CD from him after the gig I positively gushed. In those days he and the magic pipe mostly stuck to a pithy three minute pop format, and I said he reminded me of the raw, percussive thing that Tom Waits does (I don't think I was any more eloquent than that, sadly). He seemed genuinely flattered and said he knew some people who had worked with Waits, and would really love to do so. I was chuffed to learn a few years ago that he eventually did.
He's become a bit more symphonic in recent years. It should offend my punk sensibilities, but this holds one's attention for nearly ten minutes. Plus it's about whales.
You have to. You just do. Two minutes, in and out. Thrashing guitars, no whales, no violins, just pure mischieveous joy on BBC2.