A Quiet Day In
I'm back to work on Monday, after two months off recovering from surgery. I'd been overdoing it a bit on the exercise front, trying to make up for months spent flat on my back, so on my todo.txt under "Wed 20 Oct" I'd written "quiet day". It was cloudy, with a little bit of rain, so a perfect day for catching up on light chores and a bit of reading.
Then, as I was doing the washing up, this happened:
I couldn't record more than a few seconds of the storm at its' height, as it required some serious Marcel Marceau work to prevent being immediately blown back from the doorway.
I've never seen hail like it. Normally when a cold front hits moist air, you get a few minutes of hail before the storm loses it's sting and settles down into heavy rain. But on this occasion, the hail just kept coming. Before long, the Aloha carpark was at least four inches deep in it.
As usually happens in anything but the gentlest shower, the storm water drains immediately backed up, and runoff from the hills behind us started to etch a channel through the pack ice.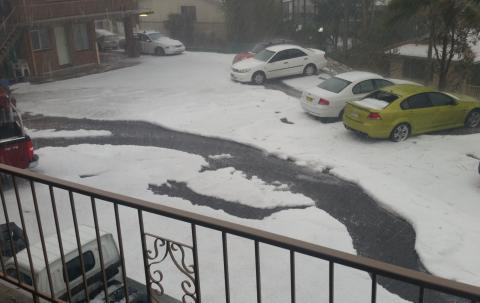 If you can overlook the shredded foliage and shattered lamps, the neighbourhood began to look positively festive.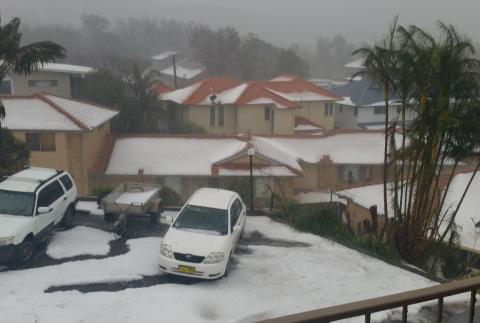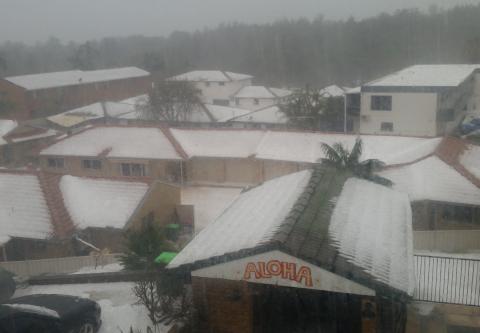 As things began to settle down, my phone started pinging. The shopping centre where I work had been closed down until it could be cleaned up and structurally assesed.
Oh, great. I've been off recovering from surgery for eight weeks, and was due back Monday. My imminent return appears to have jinxed the building to the point where the roof caved in. It (the collapsed roof, not my return to work) made the national and international media.
The messages from work continue: Part-timers like myself may be needed to help clean up, or else at the store in town to deal with the overflow demand. Implied: casuals can go hang - no work for you.
(There's a few dozen on the payroll in my department: one or two are full time employees, the rest are part-time - with minimum contract hours that would not cover the cheapest rent available in the area, or casual - with no minimum hours. This arrangement guarantees a satisfyingly desperate servility from the labour force.)
As my friend Ruben observed, the universe is telling me I need a career change.
The next day I set out for a sticky beak around the neighbourhood. There's still plenty of ice wherever it's been sheltered from the sun and the wind. State Emergency Services are swarming about, clearing ice from roof gutters, throwing tarps over shattered skylights and solar water heaters, and demolishing collapsed awnings.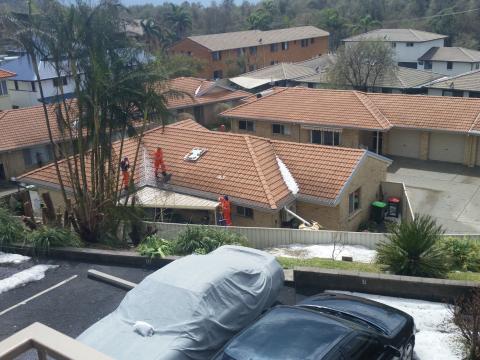 Nature has turned suddenly Autumnal, except that it's Spring, and none of these trees are deciduous.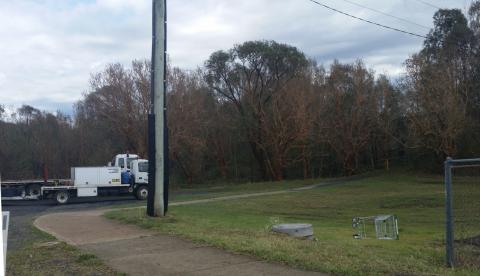 Nothing like a walk on a carpet of shredded eucalyptus to really clear those sinuses.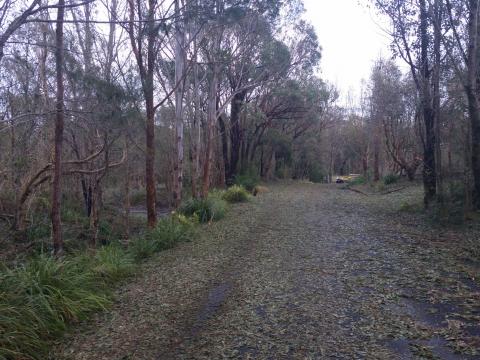 The beloved workplace is indeed closed for the duration.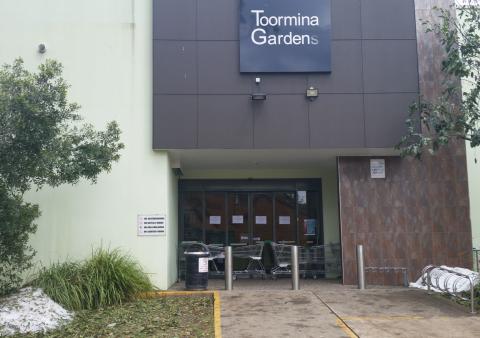 I went out of my way to bump into some of the less laddish of the lads from work. Incredibly, as best as I could make out from the hyper-masculine grunting, it appeared the plan was that we'd be up and running for home deliveries and click 'n' collect within days, and ready for in-store customers soon after.
I had assumed we'd be out of action for weeks, at the very least, while centre management fixed the roof. Silly me. Centre management have no intention of actually fixing the roof, because they have never fixed the roof. In the lightest of showers it is up to the individual stores to position buckets as needed. In extreme cases, where the sodden interior ceiling gives way such as in this staff lavatory earlier in the year, workarounds will be implemented like so: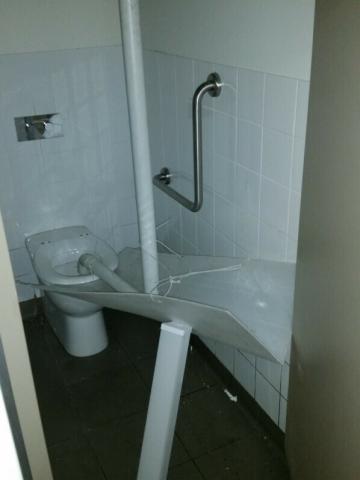 Disaster preparedness for the twenty-first century: expect the unexpected, but expect the unexpected to occur long after you personally have moved on to another scam, so it will be somebody else's problem. This from the ideology that also brought you a global pandemic. Thanks, neoliberalism!
Meanwhile, there are plenty of opprtunities for freshening stale brands with a logotype makeover.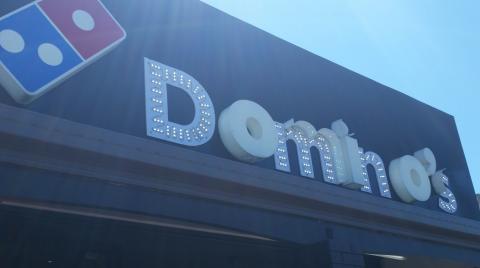 There's a pleasingly novel copper hue to the countryside.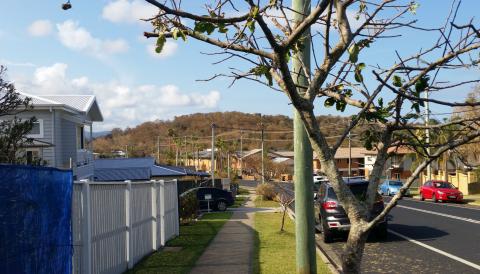 And water views have never been more open, if unnervingly overlaid with a Brothers Grimm vibe.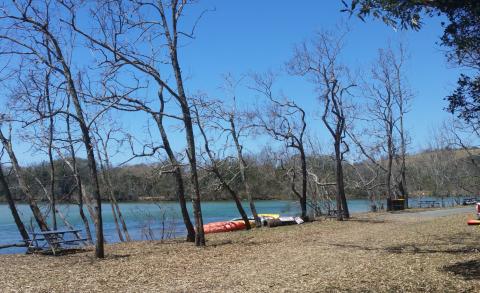 Still a couple of months left in 2021. Can't wait to see what's coming next.